In the second quarter of the calendar year 2022, India added about 389 MW of rooftop solar power, a 15% decrease from the previous quarter's 456 MW. Installations declined by 25% year on year from the 521 MW installed in the same period last year.
In the first half of 2022, 845 MW of rooftop solar capacity was added, a 2% decline from the same period last year. During the quarter, rooftop solar accounted for 10% of all solar installations. India's overall
At the end of 2022, rooftop solar capacity will have surpassed 7.9 GW.
"Rooftop installation levels were good in the first half of the year, but supply chain challenges, higher component costs, and the basic customs levy took a toll on the market in the second quarter." Rooftop project expenses have grown for six consecutive quarters. The economic case for rooftop solar, on the other hand, is stronger than ever.
Demand for rooftop solar has been increasing in the commercial and industrial (C&I) segment, mostly due to cost reductions and favorable return on investment.
The industrial category accounted for approximately 50% of installations, with the commercial, residential, and government categories accounting for around 35%, 13%, and 2%, respectively.
In Q2 2022, roughly 63% of rooftop solar installations were completed using the capital expenditures (CAPEX) approach. The operating expenditures/renewable energy services companies (OPEX/RESCO) model accounted for 37% of the projects.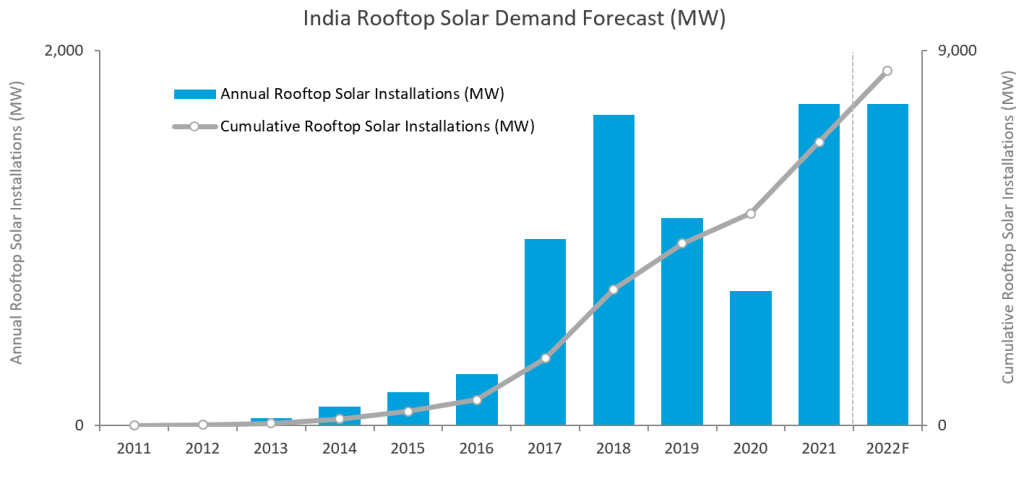 Empanelment tenders accounted for nearly 49% of the 262 MW of rooftop solar tenders issued. Tenders were issued in Rajasthan, Madhya Pradesh, Punjab, Tamil Nadu, Puducherry, and other states.
Nagaland, Manipur, Maharashtra, and Karnataka are among the states.
Top ten states in terms of total rooftop solar installations
Gujarat
Maharashtra
Rajasthan
Haryana
Karnataka
Tamil Nadu
Uttar Pradesh
Uttarakhand.
Telangana
Punjab
At the end of 2022, over 73% of rooftop solar installations were in the top ten states. Gujarat topped the list, adding more than 50 MW of rooftop solar capacity, accounting for 13% of total rooftop solar capacity.
During the quarter, there were solar installations. Rooftop solar installations total 845 MW in 2022, India built 389 MW of rooftop solar capacity in the second quarter of 2022.
As of 2022, cumulative rooftop solar installations were 7.9 GW. The top ten states accounted for roughly 73% of rooftop solar capacity.In 2022, the industrial sector accounted for over half of all rooftop solar installations.followed by 35%, 13%, and 2% in commercial, residential, and government, respectively. Segments Gujarat led the way in total rooftop solar installations, followed by Maharashtra and Rajasthan