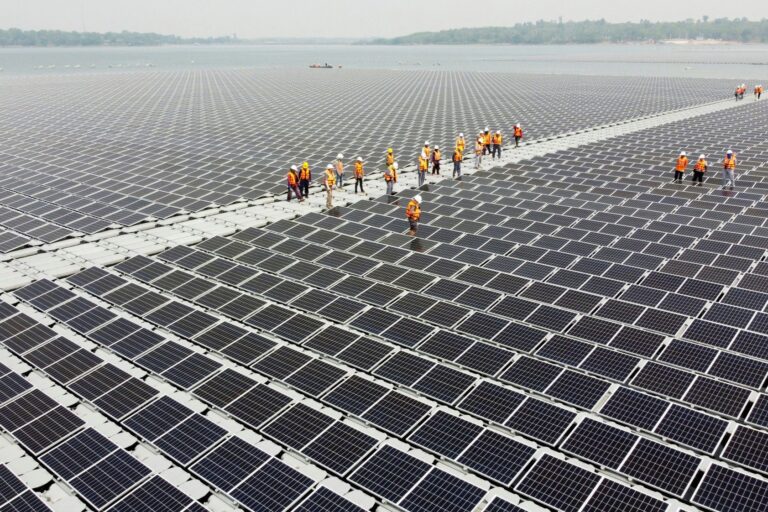 The 100-MW floating solar power plant developed by the National Thermal Power Corporation (NTPC) in 500 acres of its reservoir in Ramagundam in Peddapalli district was dedicated to the country by Prime Minister Narendra Modi.
Prime Minister Narendra Modi virtually dedicated the 92-MW floating solar power plant being up at the National Thermal Power Corporation's (NTPC) Kayamkulam unit to the country on Saturday.
Mr. Modi announced the project while attending the Grand Finale of 'Ujjwal Bharat Ujjwal Bhavishya – Electricity @2047,' an event organised to highlight the achievements in the power industry over the last eight years as part of the 'Azadi Ka Amrit Mahotsav.'
"By the end of our 75th year of independence, we had vowed to build 175 GW of renewable energy capacity." We are getting close to achieving this goal. So far, around 170 GW of non-fossil capacity has been built. In terms of installed solar capacity, India is now among the top 4-5 countries in the world. Today, India is home to many of the world's largest solar power plants. Today, the country has two more large solar plants. These facilities, erected in Telangana and Kerala, are the country's first and second largest floating solar plants. Households are encouraged to install solar panels," he further said.
The Prime Minister stated that the government's priority was to save electricity in addition to growing electricity output. "Saved electricity equals a brighter future." The PM Kusum Yojana is an excellent illustration of this. "We're giving farmers solar pumps and assisting them in installing solar panels on the edge of their crops," he explained.
According to the Prime Minister, losses in our distribution industry were in the double digits, but losses in industrialised countries were in the single digits. Informing the Prime Minister that various states owed more than 1 lakh crore to power generation companies, he urged the governments to clear their debts as soon as feasible.
This floating solar power facility in Ramagundam is worth over 5000 crores, making it one of the most costly power plants in the world. It is also one of the world's most widely distributed solar power sources, with 450 acres of water reserve.