Shantikunj, located near Haridwar, Uttarakhand is a world-renowned ashram and the headquarters of the All World Gayatri Pariwar (AWGP). Because it is one of the most well-known aashrams in Haridwar, the number of visitors who come here is also very high. The aashram officials came to us with the need for a solar kitchen that can prepare meals for 1000 people per day and they were also looking for dependable team of persons, so they came to us.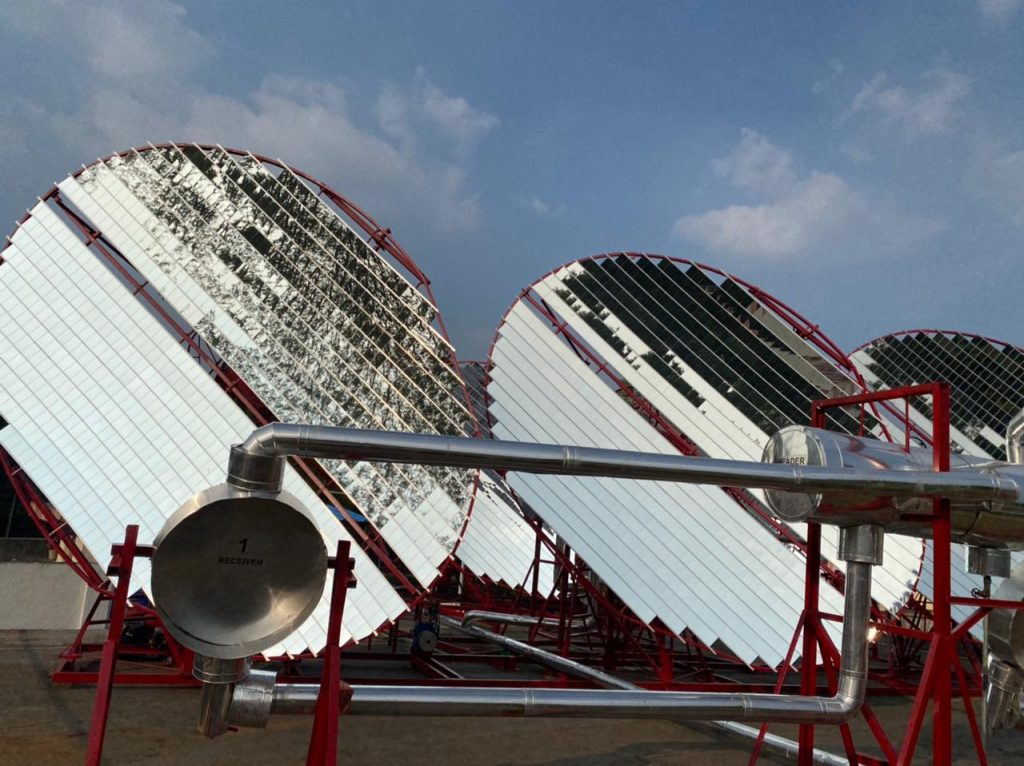 We installed scheffler dishes, also known as concentrated solar thermals (CST), which are quite effective when it comes to working. CST is basically a dish which has several mirrors mounted in it, that are used to reflect the sun's beam and concentrate them at a single spot known as the receiver.
As the sun's beams are concentrated on the receiver, the temperature at receiver rises to around 300 degrees. Following that, we pass the water through the receiver, which gets turned to steam due to the high temperature.The steam is then routed through pipes to the vessels in the solar kitchen where the meal is prepared.
Outside of shantikunj The sun's energy is harnessed by large solar parabolic dishes placed on the roof , which heat millions of litres of water and turn it to steam. Basically, it consists of a number of machine-operated mirrors with auto-tracking capabilities. They adjust mirror to provide the sharpest reflection at one location called as receiver, where the water is passed and steam is generated.
And inside the kitchens, steam is transmitted and used for cooking. However, because it is steam, we also direct it toward the cleaning area to ensure that no bacteria remain in the vessels after cleaning. So we can say that it is being used for numerous purposes and also shantikunj's criteria has been met satisfactorily.
Here is some of the specification of the project:
| | |
| --- | --- |
| Location | Haridwar, Uttarakhand. |
| Type of Installation | Scheffler Dishes. |
| Configuration | 160m2 (16m2 x 10nos). |
| Application | Cooking. |
| Steam Generation | 650 kg/day. |
| Operating Temperature & Pressure | 100°C – 120°C & 2kg/cm2 – 2.5kg/cm2. |
| Quantity of Fuel Saved | 3 LPG Cylinder/Day |
As stated in the above specification, their three lpg cylinders were saved in a single day, which is significant when compared to the cost of a commercial lpg cylinder. So, when our systems were installed, they were not only cleaning up the environment by using renewables, but they were also saving a lot of money.
Our systems pay for themselves in three years and then work for free with only a small maintenance expense, resulting in significant savings in community cooking.
NOW WE ARE EVEN BETTER!!!
For these purpose ARS has developed its new technology AGNI 69, a straightforward solution which can be extremely useful in preparing community foods without burning any fuels, reducing fuel consumption by about 80%.
It is more efficient, larger, and creates more steam, and it is superior in every way. It is totally automated, detecting sun moments automatically and even displaying how much carbon is saved by using it directly on your phone.
ARS is also the indigenous manufacturers of solar grade mirrors in India.