Renewable energy is clean energy that we can obtain from natural resources, these are harmless for the environment as well as for all living being on these planet. Examples of renewable energy are sun and wind, both are abundant resources which, when properly harnessed, may benefit both communities and the planet.
On the other hand, fossil fuels are non-renewable energy sources that, when burned, release harmful emissions, such as atmospheric CO2, that are dangerous for both the environment and people. By switching to renewable energy sources, we are not only moving towards a cleaner and greener world, but also towards a healthy one.
When compared to burning fossil fuels, producing foods as well as electricity from renewable sources produces far fewer emissions. The key to resolving the climate crisis is switching from fossil fuels, which now account for the majority of emissions, to clean renewable energy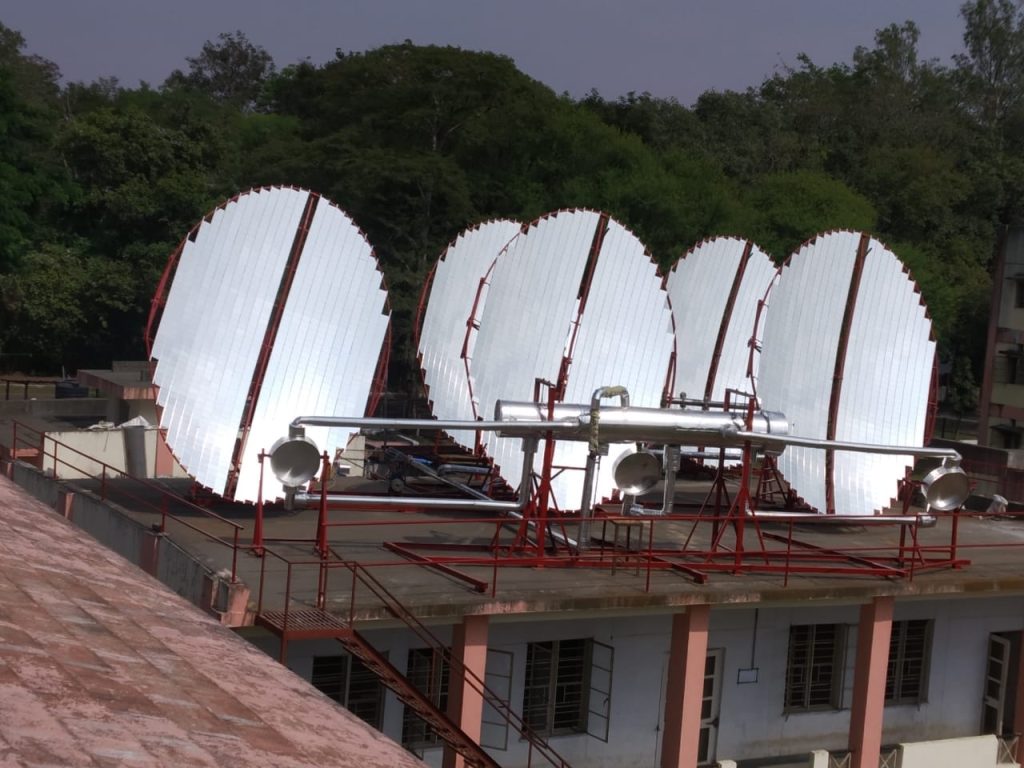 Our client, the CME Canteen in Pune, came to us with the goal of making an effort to make India cleaner and greener by transforming their kitchen into a solar kitchen. As the industry of solar energy is expanding these days, everyone is so enthusiastic to explore the world of solar.
Although setting up the CME canteen's kitchen completely without interrupting meal preparation was challenging for our engineers but as we have been in this field for the past 10 years, we are well-versed in how to do this. We finished the entire project in 60 days, from setting the kitchens to the full installation of solar dishes.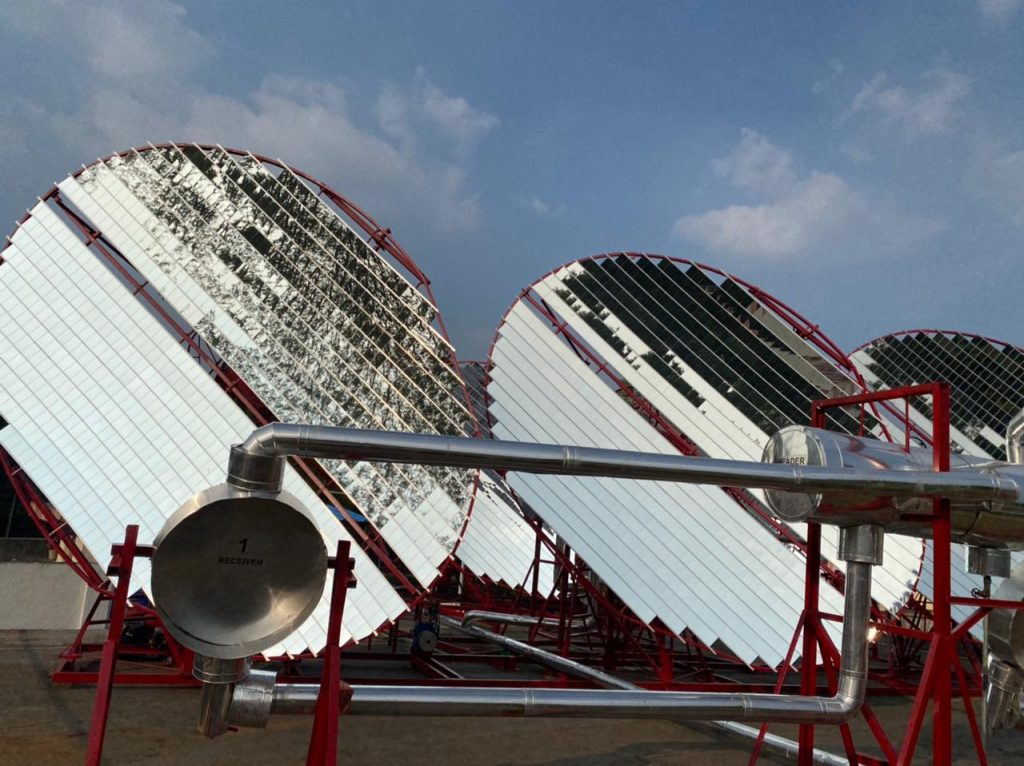 SPECIFICATION OF THE PROJECT INSTALLED IN CME CANTEEN
| | |
| --- | --- |
| PARTICULARS | VALUES |
| Scheffler Dish Reflecting Surface | Solar Graded Mirrors |
| Number Of Dishes | 5 |
| Total Collector Area | 80 m² |
| Energy Capacity Of One Dish (8 Hours) | 37840 K CAL/DAY |
| Steam Generation Capacity | 225 KG PER DAY |
| Mounting Location | Roof Top Mounting |
| Focus | Stationery Focus |
5 Schaeffer Dishes of 16 m² each concentrate sun's rays on 5 receivers (heat exchangers) placed in the focus of each dish. Water from header pipe placed above the receiver, which enters the receiver and gets converted to steam due to high temperature achieved due to high solar concentration.
The steam collected in the header pipe is piped to the kitchen for cooking
ADVANTAGES OF OUR DISH
| | |
| --- | --- |
| Total Energy Created by All Dishes | 1,89,200 K CAL/DAY |
| Fuel Used At Present | L.P.G |
| Calorific Value of LPG | 10,500 KCAL. |
| Savings of Gas | 18.01 KG/DAY (1,89,200/10500) |
| Carbon Credit From Project | 133.97 MT CO |
1)Low Maintenance Costs.
2) Huge savings
3) Renewable Energy
Feedback From CME Canteen, Pune
"We were quite duly impressed and recommend that anyone looking to transform a kitchen into a community kitchen must consult with Ars Glasstech because their work was excellent and met all of our needs."
Our Warranty Terms And Condition
WARRANTY – 1 YEARS
FREE MAINTENANCE – 1 YEARS
MIRROR WARRANTY – 5 YEARS
NOW WE ARE EVEN BETTER!!!
For these purpose ARS has developed its new technology AGNI 69, a straightforward solution which can be extremely useful in preparing community foods without burning any fuels, reducing fuel consumption by about 80%.
It is more efficient, larger, and creates more steam, and it is superior in every way. It is totally automated, detecting sun moments automatically and even displaying how much carbon is saved by using it directly on your phone.
ARS is also the indigenous manufacturers  of solar grade mirrors in India.