Solar kitchen is fully working kitchen that use the sun's energy to prepare food, Unlike our typical kitchen, where food is cooked by burning fossil fuels (LPG Cylinder).
So, how's this possible?
Concentrating solar thermals (CSTs) are installed near the solar kitchens to do this. CST is basically a dish which has several mirrors mounted in it, that are used to reflect the sun's beam and concentrate them at a single spot known as the receiver.
As the sun's beams are concentrated on the receiver, the temperature at receiver rises to around 300 degrees. Following that, we pass the water through the receiver, which gets turned to steam due to the high temperature.
The steam is then routed through pipes to the vessels in the solar kitchen where the meal is prepared.
Inside the solar kitchen
As superheated steam at 300 degrees Celsius is passed through the solar kitchen, it is essential that the solar kitchen should be well equipped to handle this steam, as even a minor mistake can lead to be extremely dangerous.
1) The Main Component of Solar Kitchen – CST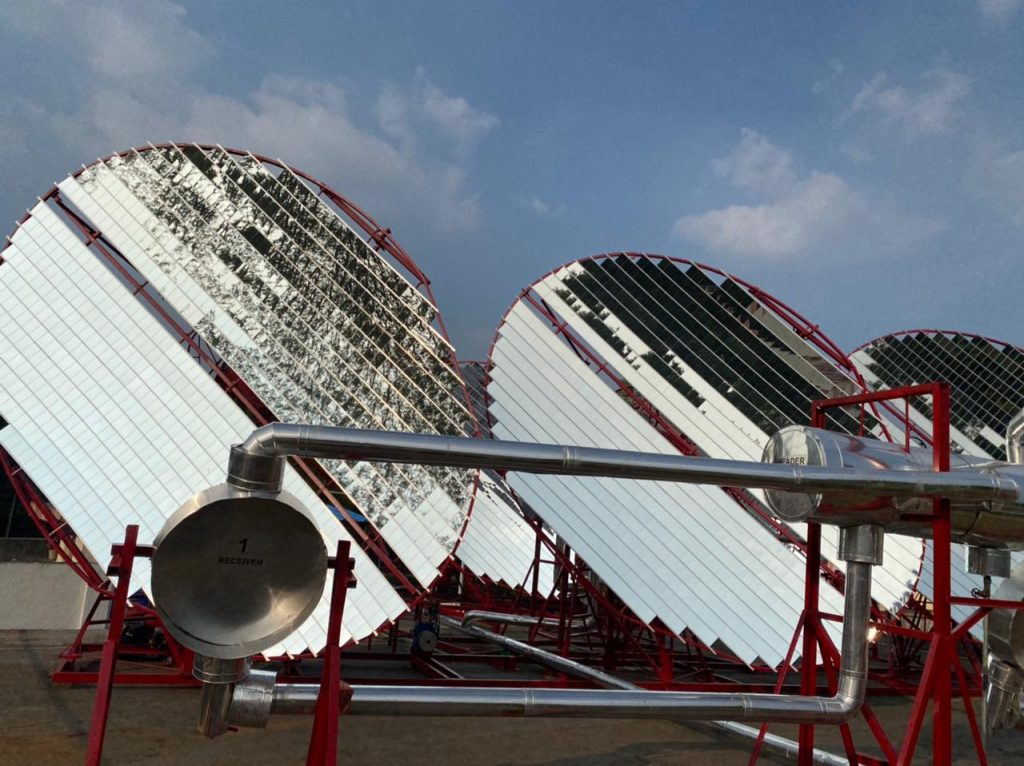 The sun's energy is harnessed by large solar parabolic dishes placed on the roof , which heat millions of litres of water and turn it to steam. Basically, it consists of a number of machine-operated mirrors with auto-tracking capabilities. They adjust mirror to provide the sharpest reflection at one location called as receiver, where the water is passed and steam is generated.
2) Vessels in solar kitchen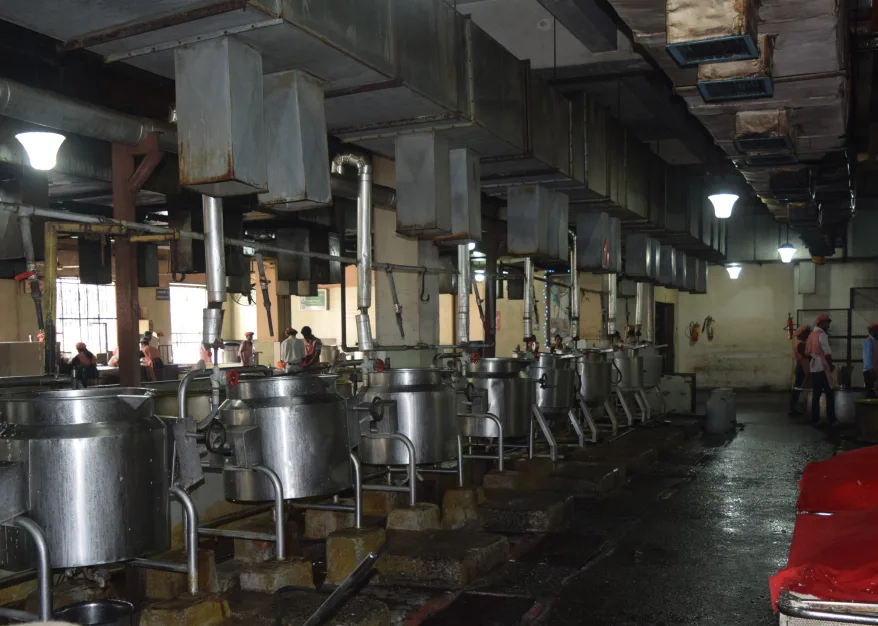 Stainless steel vessel of very high quality is installed in the solar kitchen while keeping safety, efficiency, and every parameter in mind. It is installed in such a way that it is mounted with the pipes through which directly the steam is passed and food is made.
3) Food preparation in the solar kitchen
Our food preparation may merely consist of boiling the food to make it ready to eat; similarly, in the solar kitchen, all veggies, rice, and other boiling items are boiled in minutes without any extra effort. We simply place the veggies, rice, or other ingredients into the vessels and close the lid and pass the steam; within minutes, our food will be ready. This is the efficiency of the solar kitchen; for example, with our new CST system, 100 kg of rice can be made in just 10 minutes.
4) Cleaning of solar kitchen
We all know that the best way to eliminate dirt, germs, and viruses on any surface is by steam wash. Because we have abundant steam that can be used for a variety of purposes, we utilise it for solar kitchen cleaning as well as vessel cleaning to ensure that no virus survives.
Converting the community's traditional kitchen to a solar kitchen
Especially in traditional community kitchens where many meals are cooked at once by using LPG, replacing it with a solar kitchen would be extremely beneficial.
In community kitchens, fossil fuels are used to prepare food, which is not only bad for the environment but also expensive.
Converting the community's traditional kitchen to a solar kitchen would not only save money, but will also be a great step towards a renewable and cleaner planet.
To get a better idea on why replacement of fossil fuel is important you can click here.
HERE ARE THE LIST OF INDIA'S BIGGEST SOLAR KITCHEN
#1. SHIRDI MEGAKITCHEN
On the busiest days, the shirdi prasadalaya, one of India's largest kitchens, feeds food to around 70,000 devotees.
The Saibaba shirdi prasadalaya, which features a monument of Sai baba at the entryway is powered by 73 big CST's (Concentrated Solar Thermal), can serve 3000 people for a free food (prasad) at one seating. There is, however, another seating area where people who do not feel comfortable interacting with the masses can pay for a meal of their choice.
#2. Tirumala Tirupati Devasthanam
Tirumala Tirupati Devasthanam uses the Scheffler Community Kitchen design to create one of India's largest solar steam cooking system. The system is made up of 106 rooftop-mounted parabolic concentrators that produce enough steam to cook up to 30,000 meals per day.