Results after running the project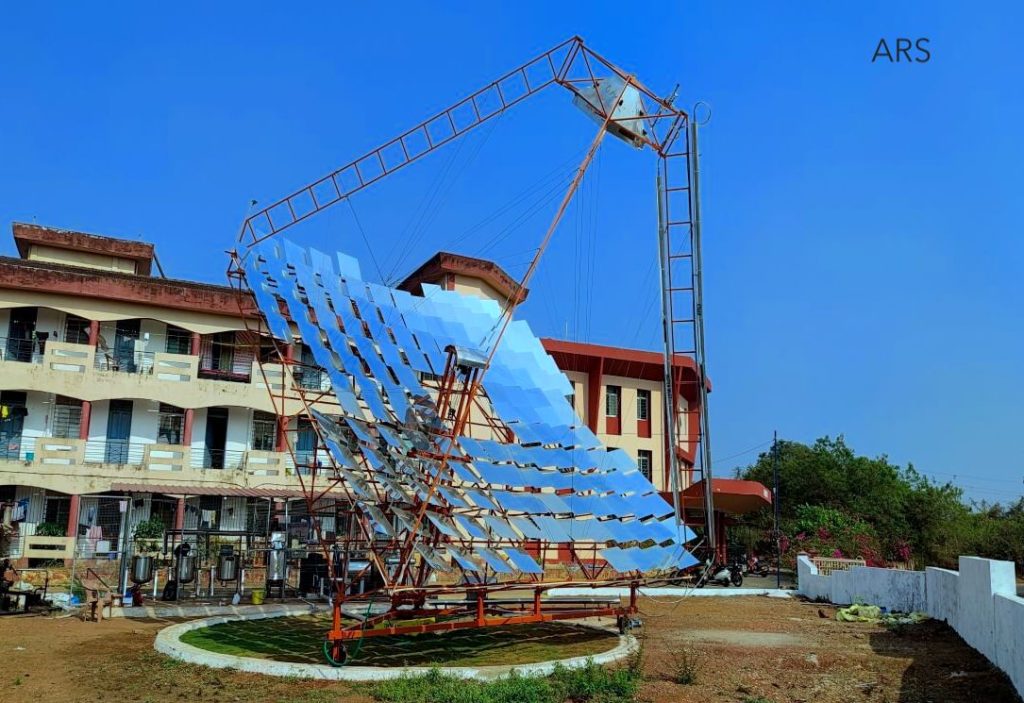 AGNI 69 is the result of the countless hours of effort put in by the engineers and employees, so when it began to function and produce excellent results, it was a proud moment for us.
The engineers at Ars Glasstech completely manufacture and assemble each component. Goa University was one of our first projects where we installed our new cst system, AGNI 69.
Goa University approached us with a demand for 800  meals to be prepared per day as well as they also have some space limitations due to limited space near the kitchen. So, as our prior cst system which was a scheffler dish, which was smaller (16 square meter) than the 69 square meter AGNI 69, but we had to install at least four of them to meet their requirements for the meal, and we had to provide enough space for each dish to move around to trace the sun, which was a bit of a struggle whereas when it comes to AGNI 69, this single system is capable of performing the work of four scheffler dishes with greater efficiency and even more advanced technology, so our team visited the Goa university and conducted a survey, and AGNI 69 fit perfectly for each of their requirements, so we finally we decided to take the next step and bring our vision to reality.
So our first cst system AGNI 69 in goa university was installed and it was a remarkable achievement for the company as well as in the cst solar sector due to the capabilities of AGNI 69
Some of its main capabilities are
~ The first and most important benefit is the replacement of fossil fuel in the boiler, and because it uses renewable energy, our environment is not harmed.
~ It is currently one of the most advanced concentrated solar thermal systems on the market. In comparison to the old cst system, this can produce significantly more steam.
~ It is auto trackable, meaning that it automatically tracks the direction of the sun and adjusts each of its mirrors to provide the best results at all times.
~ It automatically calculates and displays the amount of carbon saved directly on the phone.
~ It comes with a 3 years ROI and ensures maximum financial savings wherever it is installed.
~ It can be used in factories instead of boilers to provide the same temperature and result in a more efficient manner.
~ It can be used for process heating where high temperatures are required and fossil fuel is used, which our concentrated solar thermal AGNI 69 can easily replace.
~ It can also be used for process cooling in cold storage and other locations, and it can keep the temperature cool in the area.
~ The most important feature of our concentrated solar thermal AGNI 69 is that it can be used to prepare meals in community kitchens by supplying very high temperature concentrated steam can it is the straight replacement of lpg.